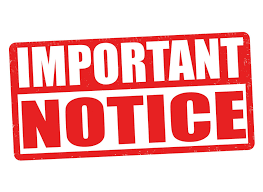 As you may be aware, we are in the process of doing renovations in the school to prepare for the new school year. During these renovations, asbestos tile was found in some floor tiles in the building. 
Asbestos in tiles is generally safe as long as it is not disturbed/broken up. Unfortunately, during renovations from June 11 to June 16, some of the tile was disturbed. Air samples were taken and revealed there was a small amount of asbestos fibre in the air. The measured sample amount was 0.01 f/cc (fibres per cubic centimetres) which is just over the allowable limits for clean air. 
We are currently working to remediate and remove all exposed asbestos in the school. Over the next few days, outside the school you may see asbestos remediation professionals safely removing and cleaning the school. 
We will test the air quality again on Monday, June 22nd, and if we get the all clear, the school will reopen on Tuesday, June 23 as we work to prepare for the new school year. 
Also for your information, a report was prepared of the incident, as well as a remediation plan and this was shared with Saskatchewan Labour, as required by law.
We have also provided an update to the Saskatchewan asbestos registry.  www.saskatchewan.ca/asbestos.
If you have any questions, please contact me
Larry Somers 
Principal