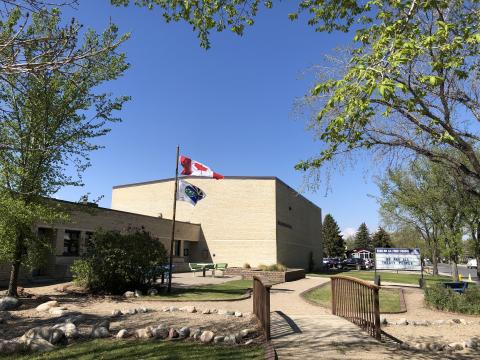 We are all Treaty Four People - Nous sommes tous impliqués par les traités.
It is important that we recognize that École Dr. A.E. Perry Students and our families live on Treaty Four territory, the original lands of the Cree, Ojibwe, Saulteaux, Dakota, Nakota, Lakota, and on the homeland of the Métis Nation. The Treaty 4 Flag represents 34 First Nations in Manitoba and Saskatchewan.
Our students are all treaty people and as such, need to understand the role that treaty negotiations play in our shared and collective history. Regina Public Schools work closely with Indigenous elders and Knowledge Keepers to learn more about our history, past, present and future. We are grateful for the support of Regina Public Schools in supporting the protocol involved with raising the Treaty 4 flag.
At École Dr. A.E. Perry School, our community participated in the flag raising ceremony on Wednesday, May 26th. We were grateful to welcome Singer Mr. Chief, Elder Agecoutay and cultural liaison Mr. Cappo, as well our school trustee and board chair Mr. Hicks. Our students and families had the opportunity to watch the flag raising ceremony through a live YouTube link which was facilitated by Mr. Antonini and Mr. MacMillan from Division Office.  Even better, all of our students and families got to participate virtually, as well as Neveah, Liam, Sadie and William, who joined us in order to offer tobacco to our special guests and help raise the flag.
This was such an important day for a school community and for us, is a commitment to learning more about reconciliation and our role in this journey.  We are so grateful to the many people who supported this learning for our students.
If you missed the opportunity to see this ceremony, please see HERE for the link.