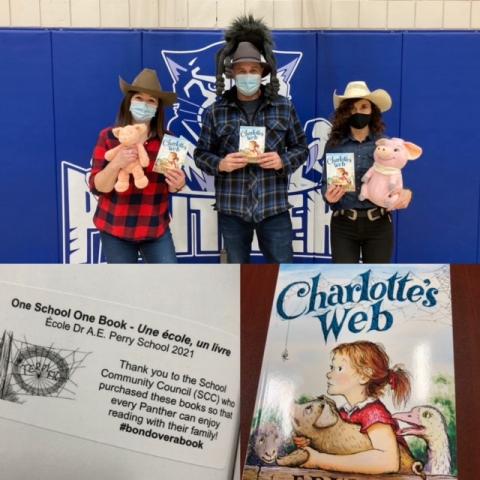 "With the right words, you can change the world." E.B. White
What an incredible day today! We are pleased to announce our "One School One Book" title - E.B. White's Charlotte's Web. Our students participated in a whole school virtual assembly - see HERE for the video link that explains what One School, One Book is, and reveals the title!
Each family should receive a package that includes a brand new copy of this book, graciously purchased by our incredible École Dr. A.E. Perry SCC, a bookmark, a brochure for parents with tips on how to support reading at home, and a reading calendar for our One School One Book Challenge!  Only the youngest / only child received this package as there was one for each family.  Please let us know if you did not receive this package and you should have, or if you received one in error!
We are SO EXCITED to share our love of reading with our Panther families - great things happen when kids, families, schools and books come together.
We hope you get started reading right away!  Feel free to join our reading challenge - snap a photo of your family reading Charlotte's Web together, and send it to the school!  We will highlight your family and you can win some amazing prizes.
And now... time to get reading!
Here are the resources to get you started!
HERE is the link for the online Charlotte's Web Activity Room created by our very own Mrs. Fiorante.  Make sure you explore this room carefully - there are so many exciting things to see and do!
HERE is the link for the reading calendar.
HERE is the link for the "One School One Book" kickoff featuring our very own Perry staff with lead vocals by Ms. Ochitwa!