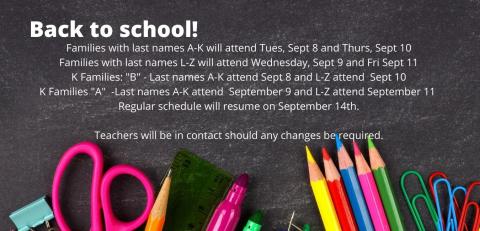 Welcome back to École Dr. A.E. Perry School!  Bienvenue à l'École Dr. A.E. Perry!
Our division office staff and school based staff have been working very hard to prepare for the arrival of our students on September 8th and September 9th. Classroom teachers are making contact with families this week to ensure that parents have the opportunity to ask questions and feel prepared for the upcoming school year.
We will begin the day outside - staff will be holding signage so that students can connect with their classroom teacher. 
A few items to help reduce congestion and keep our students safe:
Please remember our "Stride to School" campaign.  There will be school buses parked along Lincoln Drive and we are asking families to either walk, bike, or if that is not possible, to park a block away and walk in.
Wherever possible, we are asking that only staff and students access the playground and school facility.  Not to worry... we will have all our staff available to help students find their teachers on the first day. We know we have lots of friends who are visiting this school for the first time!
If possible, students are asked to return home for lunchtime.  We know this may not be possible for all families.
Call our main office or email if your child will be away.
If your child is ill, we ask them to remain at home.
Our teachers will be working with students during these first couple of days to help students become accustomed to the new routines and procedures in place.
We are excited for our students to see their beautiful new learning spaces.  We are looking forward to an incredible school year together.  The routines and procedures may look different, however, they will help to keep us safe while we are busy learning.
Should you have any questions about our routines and procedures for those first days - please don't hesitate to email us at draeperry@rbe.sk.ca. 
Welcome back panthers!